Few weeks ago, one fine day when I woke up, I felt damn tired and didn't had the energy to get up and move. After some uneasiness, I woke up, finished my morning routine, had my breakfast and then again unknowingly slept from 10 am to 4 pm once again without any disturbances in between. Since I have bad sinusitis, head ache and nose block are very common for me. After waking up in the evening, I felt little better and as time moved I was completely okay. There was completely no trace of any issues at all. Exactly after 4 days from there, I had a mild throat infection. The next 2 days I had a mild sore throat. I started popping in erythromycin and gargling warm salt water. By that time we had also brought in the so called KabaSuRa and started taking in that to be on a safer side. The next day later I had gone completely loss of smell and taste (i.e. exactly 2 days after the ICMR announced that loss of taste and smell are symptoms of #covid19) .
The next day when the corporation people when they came their usual formality checks, I checked them as to how to take an RT-PCR test and they asked me to visit the nearest primary health care centre. The time when I was asked to go was around 11.30 am and I was quick enough to visit the health care centre by 12.45 to only see that they have closed for the day. I was wondering as to when the cases are soaring high, why would they close the testing centre so soon. Hence I came back cursing them and locked inside the house. The next day out of this tension, I visited the centre around 10.30 in the morning. As soon as I entered people working there where checking me for any evident symptoms, After 20 minutes, the health department officers/ corporation people told me that as I was not having any pressing or evident symptoms, I don't need to be tested. I was like WTF! There are so many people hiding out at home , roaming around the streets being carriers, when I volunteer to test myself pushing all stigmas aside and I get to hear this, DON'T TEST.
After repeated arguments put forth, finally they agreed to do the test. Later I underwent the Real time RT-PCR swab test. After the test, one guy from that office tells me 'Sir idhellam cold maari dhaan, edhukku test laam edukreenga..epdiyum positive dhaan varum, neengaley veetla pathukalam' and then left. What on earth man……………….pffffffff. From that afternoon , after visiting the centre I developed slight temperature and severe headache and the whole night I felt uneasy. The next day no one came or informed anything. So I thought it might be Negative and hence no information, however that also I had temperature and headache and all these 6 to 7 days I have already gone loss of taste and smell. The next day people from corporation asked me to come to the Guindy clinic for check-up stating that the result has come as #Covid positive. After hearing it my immediate reaction was I am going to die inside my mind however I as actin very strong outside stating that Oh I expected this and this nothing to worry.
The check-up was done and all vitals were found to be stable and as I was less symptomatic or almost asymptomatic, the prescribed for home quarantine for 14 days and nothing to worry. I heaved a sigh of relief and left and I locked myself inside my home for almost 21 days. And then slowly I could see there was no temperature at all, throat pain subsiding slowly. Tiredness and fatigue alone persisted for another 7 days from the check-up date. Post 3rd July 2020, I felt completely okay and all recovered. And then I posted a status here.


Now points to be addressed/focused
1. The govt/health dept/ corporation is not that religiously keen on TESTING. I know a lot of you now will say that TN is the state doing highest number of tests. Agreed on a comparative mode yes TN is doing more number of tests, however when the number of infections are so high in a state, this comparison doesn't stands strong and valid. If you keenly observe the op 3 metro cities Delhi, Chennai, Mumbai are highly affected and its natural to see these metro cities getting affected as they have high probability of transmission due to thick population, urbanization, industrialization etc. Now the bigger question is, have we scaled up our tests for the magnitude of infections spreading daily? NO.....The rapid tests kits which were promised for state and union govt 3 months ago, I don't know where did they go, because without that random/pooled testing is absolutely difficult. Random rapid antigen tests can give you the results in a few hours time, however RT-PCR test will take minimum 24-48 hours. I don't say RT-PCR test wont help, it would definitely help but only for focused/targeted testing. If we want to curb the fast spread, rapid tests to be done for every single streets of TN. Also rapid test are very cheaper (less than 1000 compared to RT –PCR test ranging about 3500 – 4500) . Imagine how can a family of 5 or 6 can undergo RT-PCR test in a private lab shelling out 30K odd..is it that easily affordable?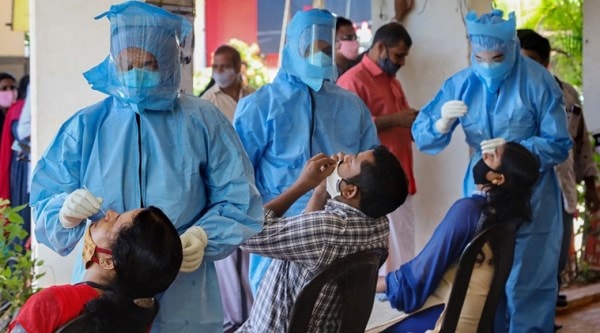 2. The medicines which are given for home quarantined patients are just 5 multivitamin tabs & 5 zinc tabs. That's all. If you are seen with coughing or sore throat they give you 2 erythromycin. These are the only tabs given which can be easily bought by ourselves. While patients who are admitted in govt hospitals are given some Kashayam in additional. That's the only difference. Yes, agreed, if the patients need oxygen support, TN hospitals are far better in this case.

3. A friend of mine, his mother was tested positive in Valasarawakkam meanwhile (may be around 4th day from my results), she was having a little breathing issues. The ambulance came after 5 hours of waiting. Imagine if a dying patient had to wait for 5 hours to get an ambulance. I am not saying this happens to everyone. But if it happens to even one and if that person dies, it's a complete failure of the system. Why I bring this point here is to highlight some major pitfalls in the system.

4. The recovery rate/discharge rate as they claim everyday on news channels 3000+, 4000+discharges are not even complete recoveries. Offlate since two months after ICMR announced not necessarily Exit tests should be done, the govt has topped doing the exit negative showing tests for patients. It's so shocking to see the govt takes the patient, observes him for 3 days, and discharge them saying they are completely fine now and they can go quarantine themselves inside their home without even a confirmatory EXIT test. If you don't believe me on this point , you can very check with a lot of patients in your known circle.

5. So now that govt aint does the EXIT tests while discharge, I check with corporation people and also visited the camps to take test only to hear ' NO NEED OF ANY EXIT TESTS, EVERYONE WILL EB CURED AFTER !$ DAYS AUTOMATICALLY, IF YOU WANT GO TEST IN PRIVATE LABS' And this is fine with a person like me who can afford money, but what about the underprivileged, poor, downtrodden, lower middle class people…how can they even afford to do tests in private labs, esp when families are completely affected in many cases like 5 people or 6 people within a single family.

6. Tamilnadu govt has not slashed the RT-PCR test fees in private labs. Please check by yourself, Delhi and Maharashtra govt have slashed the RT-PCR test fee down to 2500 rs per test where as TN govt has fixed 4500 as maximum tariff all labs charge around that only. Wont this discourage people to take tests? If voluntary tests are to be encouraged, should that price be reduced? SO what is this govt trying to do? DISCOURAGE TESTS and claim outside, we are doing the maximum number of tests.

7. Private hospitals are another horrible sector…. A friend of mine, her family was infected and her dad developing much symptoms first got admitted to a famous hospital near NSK nagar, he was admitted for 7 days, the treatment he got was only 1 Azithral every day and they charged 2+ lakhs for 7 days. Again he was moved to another famous 'foundation' for another 7 days and they charges another 1+ lakhs, comparatively atleast better treatment and care was given. Many private hospitals in Chennai, more son in down south districts do not admit patients easily, hoard bed numbers, give umpteen number of reason for no admission, creating artificial scarcity of beds especially in Madurai. Famous hospitals like Apollo, vadamalayan hospitals keep saying no beds for consecutive 8 to 10 days also. If at all they admit, they charge a whopping 4 – 7 lakhs and with a very bad recovery rate ratio… Just see the way how private hospital management fleece money out of people and make business in this bad situation. This is why HEALTH care should be under govt and not to be privatised so badly. Healthcare is now only a BUSINESS.

8. The treatment, care, facilities provided in Govt hospitals, quarantine centres vary from place to place, hospital to hospital, centres to centres. Few places have taken care of patients very well, however major places have let down the patients esplly downsouth districts where the health infrastructure is horrible. Some quarantine centres and hospitals have one toilet for 30 people approximately which is quite too bad. Food given in certain hospitals are pathetic. Kids don't get proper food in time or in good quality etc.

9. Now you may think how did I contract infection, which exactly I was thinking also form the day I got tested. We all of us at home are working from home since March end, not getting into any crowded spaces. Only place we go once in 3 days is a nearby store for milk, eggs and veggies. Hence we presume I would have contracted from anyone or anything from the store.

10. Now why did I post the test result on Social media – to address the STIGMA around this subject. Everyone is scared to talk about it. Acknowledge it. People don't even go test if they have symptoms. Roam around and keep spreading to everyone. Many neighbours are discriminating patients. I heard few streets away when a flat resident got the infection, immediately the opposite flat people have closed and did not even check upon if the patients need anything. A known contact whose elderly mother had passed away, the house owner forced the single girl to vacate the house immediately. Poor girl did not have any place to go also in additional to her loss. Also heard in news , same family people not taking covid affected patients inside their home despite turning negative..
Now what points can help
1. Firstly, if at all you have mild symptoms( slight temperature, mild throat pain, body pain) please isolate yourself and be in your room ( I know majority crowd won't have a separate room, however find some options) – These can be normal cold flu symptoms also. However just to be on a safer side, just isolate yourself and monitor for more symptoms, if not you and others can also be safe. If symptoms persist more than 48 hours, pls test asap.

2. Secondly, even inside your home, amidst friends, family members, colleagues – use face masks. It would help reduce the spread to a greater extent. It's just that negligence our family, our friends , its ok to not wear mask costing a lot for many people.

3. Thirdly, practice all safety measures prescribed, using masks, sanitiser, washing hands with soap, bathing after reaching home back, clean vegetables and other stuffs with water etc.

4. Now, if at all you are tested positive, stay strong. Mental and Psychological strength is much required to handle this. Physical issues are comparatively easier to handle than even this whole mental agony. Many families suffer form handling this. In my case, I was equally devastated to hear it despite following all sincere procedures. But staying strong is the only choice any patient need to have. Trust me 90% of patients do not have any major effects. So please consider yourself to fall into that 90% of the crowd. For most of the crowd #Covid comes and goes like a common flu with some extra physical issues.

5. Inform concerned authorities about your status and cooperate for check-up. In case if you are admitted in hospital, give your family the mental strength to handle this situation. Willpower is equally required to get over from the disease as well. Stay strong and take good intake of food, medicines etc.

6. If you are advised for home quarantine, start taking Vitamin C , Multivitamin tablets (don't believe in govt, they will give just 5 tabs ) , Zinc tablets as supplements as the regular food cannot give you the required supplement. Eat a lot of green leafy veggies, greens, fruits, nuts, eggs, meat, hot fluids like soups, tea, fruit juices etc. All these would help develop antigens and fight against the viral strain and in turn boost immunity. Spices and nuts are quick immunity boosters. Practice steaming with ginger, lemon spices and herbs. Practice frequent gargling with salt and turmeric. Take golden milk with pepper and turmeric. These can help you regain your energy level and health condition.

7. Practice meditation, yoga, breathing exercises or physical exercise whenever you find time.

8. As most of us are aware, #Covid has no treatment, treatments in hospitals are given to handle the current ailments such coughing tablets for coughing, cold tablets, oxygen supply in case of breathlessness, HCQ, Remdesvir etc if required. So there is no certain magic happening in hospitals. So please take of yourself with utmost priority.

9. If you are pregnant, you have to be double careful. Practice all required measures religiously.

10. Ask for help, if needed at the right time. Please thank the doctors, nurses, corporation workers, health inspectors, volunteers, sanitation workers. Although many these people act stupid , most of them are very supporting, concerned and doing great service to the society.
Written by : Rathish
Fashion Model | HR Professional | Writer